**I received an ARC from a giveaway (thank you BookishHQ and PenguinTeen!). These are my honest opinions, and in no way was I compensated for this review.**
---
Book: Wicked Fox (Wicked Fox #1) by Kat Cho
Release Date: June 25, 2019
My Rating: 4.5 stars
Rep: ownvoices Korean setting and characters
Summary: A fresh and addictive fantasy-romance set in modern-day Seoul.
Eighteen-year-old Gu Miyoung has a secret–she's a gumiho, a nine-tailed fox who must devour the energy of men in order to survive. Because so few believe in the old tales anymore, and with so many evil men no one will miss, the modern city of Seoul is the perfect place to hide and hunt.
But after feeding one full moon, Miyoung crosses paths with Jihoon, a human boy, being attacked by a goblin deep in the forest. Against her better judgment, she violates the rules of survival to rescue the boy, losing her fox bead–her gumiho soul–in the process.
Jihoon knows Miyoung is more than just a beautiful girl–he saw her nine tails the night she saved his life. His grandmother used to tell him stories of the gumiho, of their power and the danger they pose to humans. He's drawn to her anyway.
With murderous forces lurking in the background, Miyoung and Jihoon develop a tenuous friendship that blossoms into something more. But when a young shaman tries to reunite Miyoung with her bead, the consequences are disastrous . . . forcing Miyoung to choose between her immortal life and Jihoon's.

SONG OF THE DAY
"Strawberry Blond" by Mitski
"Gumiho," Jihoon whispered.
The girl's head whipped around, her eyes bright as fire.
Jihoon knew he should fear her, but instead he felt a strange fascination.
Wicked Fox was one of my most anticipated 2019 releases, and I was not disappointed. This book was a stunning debut that lived up to my expectations and then some. A gorgeous fantasy, Wicked Fox tells the tale of a gumiho and her unexpected bond with a schoolboy, set against the atmospheric world of modern-day Seoul.
This book was beautiful, just beautiful honestly. It honestly felt just like a k-drama with the characters and the drama and the pacing. Wicked Fox is just so soft and lovely and just overall wonderful. I couldn't help but picture that scene in Strong Woman Do Bong Soon where the two main characters are by the bridge and the cherry blossoms are falling on them. The ache! The yearning! The mortifying ordeal of being known!
If you watch k-dramas, this book really follows the typical pacing. Half the book is this slow, soft unveiling of the plot and the characters, and then when we reach the turning point, we really hit the ground running. From there, it's so intense and high stakes, but there's also still time for some of the soft, gentle scenes that captured my attention during the first half. I honestly need this book adapted as a TV series!
This book is set in Seoul, which is a nice departure from the typical set-in-the-West books we often have today. And the best thing: it's written by someone who shares the same culture. Cho is Korean American, and the difference between an #ownvoices novel and one that's not is so marked. I think Cho did a great job of explaining Korean culture and differences from American standards that non-Koreans might not know without over-explaining.
The prose is skillfully done, with the right emphasis on drama, love, passion, sadness, and so on at the appropriate times. You'll find yourself sucked into this book at every moment; I couldn't put it down.
I adored all of the characters! Jihoon is the soft boy to end all soft boys, and I would honestly lay down my life for him. Miyoung is going through her own struggles, and I just love her so, so much. All of the side characters are great too, and I need more of them.
And the romance! It's a nice reversal of "the soft one busting their way into the tough one's heart," in that "the soft one" is Jihoon and "the tough one" Miyoung. Their relationship is so well-developed, growing stronger at just the right pace. I mean, the soft yearning of their relationship; Miyoung not wanting to fall in love with a human but she can't help it; all of it evokes this lyric "I picture it soft / And I ache" ("Strawberry Blonde" by Mitski). Again, I couldn't stop thinking about the cherry blossom scene! I'll insert a gif below to capture the mood.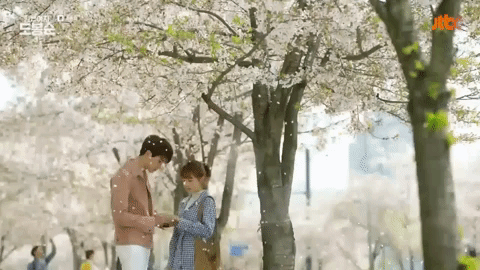 Jihoon had come to realize Miyoung cared, about everything. She was someone who killed to live, but she had a soft heart. It must have torn her apart that her very existence caused pain for others. And knowing that, Jihoon hurt for her even as he didn't know how to help her.
Wicked Fox is one of the best debuts of 2019, and honestly, for this to be Cho's debut is astounding; I cannot wait to see her works in the future because this book is just so amazing. The pacing is perfect, and the prose is so, so beautiful. I adored the characters and the softness of the romance. Wicked Fox is not to be missed, trust me.
About the Author: Kat Cho used to hide books under the bathroom sink and then sneak in there to read after bedtime. Her parents pretended not to know. This helped when she decided to write a dinosaur time-travel novel at the tender age of nine. Sadly, that book was not published. She currently lives and works in NYC and spends her free time trying to figure out what kind of puppy to adopt. Kat's YA contemporary fantasy debut WICKED FOX comes out with Putnam Books for Young Readers in Summer 2019.